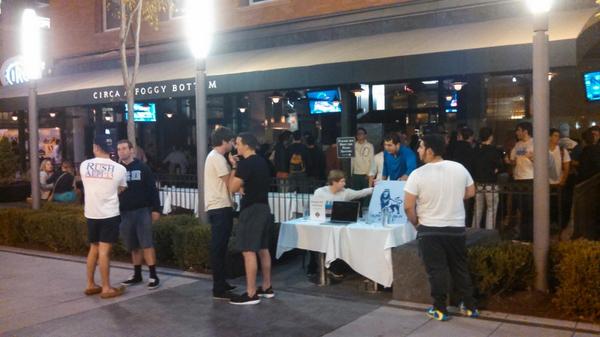 Last Updated: April 26, 2021
Here's an (incomplete) list of spots with covered patios (space must be either fully covered or there are significant number of seats such that you will likely avoid uncovered seating).
** are currently only open for takeout and/or delivery,
*** are not open at all,
? is unclear.
Dupont and Woodley Park are the neighborhoods with tons of covered seating.
NOTE THIS IS INCOMPLETE LIST – PLEASE DM @BARREDINDC ON TWITTER OR EMAIL BARREDINDC@GMAIL.COM IF YOU HAVE ONE (DON'T SEND ME ANY RETRACTABLE ROOFS)
Dupont Circle (17th Street is the best at this)
Floriana (new tent)
Trio's
Agora
Astoria
J&R's
Annie's
Duke's (streatery tent too)
Magnolia***
Bua Thai
Lauriol Plaza
Sette Osteria
Pizzeria Paradiso
Bar Charley
Hank's (streatery)
Kramers
Public Bar (roof deck)
Shaw
Espita/Ghostburger
Hazel***
Service Bar (streatery huts)
Columbia Room
The Roasted Boon
Maxwell (streatery)
Nina May (streatery)
Unconventional Diner (streatery)
DC9 (streatery, roof deck)
U St/14th/Logan
Dukem
Sette Osteria
Le Diplomate (Streatery)
Compass Rose (streatery)
Commissary (streatery)
Logan Tavern (streatery)
Adams Morgan
Lucky Buns
Soussi
Roofer's Union
Columbia Heights/Mt Pleasant/Park View
Lou's City Bar
Purple Patch
Marx
Don Juan
Midlands (huge umbrellas)
Hook Hall (cabanas)
Capitol Hill
Union Pub
Tunnicliff's
Cava
Ophelia's
The Brig
Trusty's (2nd floor patio)
H Street/NoMa/Union Market
Nomad***
H St County Club**
Duffy's Irish Pub
Choong Man
Pursuit
St. Anselm (single party stalls)
Bloomingdale/Truxton Circle
Navy Yard
El Bebe
Circa
Scarlet Oak
All Purpose (secondary patio underneath ovehang)
The Wharf
Cantina Bambina
Watering Hole
Georgetown/Foggy Bottom/West End/Glover Park
Reverie**
Martin's Tavern
Circa
Mercy Me
Ghostline
Woodley Park/Cleveland Park
Mayahuel
Hot n Juicy Crawfish**
Macintyre's
Woodley Cafe
Rajaji
Cleveland Park Bar and Grill (roof)
Medium Rare (sidewalk covered area)
Tenleytown
Brookland/Ivy City
Menomale
Primrose (single party stalls)
Right Proper Brookland
Other Half Brewing
Penn Quarter/Chinatown/Downtown/Mt Vernon Square
Irish Channel
Penn Quarter Sports Tavern
Jaleo (streatery)
Prost (Streatery)
Taberna del Alaberdero
Georgia Brown's