[UPDATED 11/20/16 with another trip]
Asheville, the western North Carolina city nestled in the Blue Ridge Mountains, lives up to the hype, Barred in DC can safely say after visiting it twice in 2016. The artsy, off-beat community of 80,000 is known for its incredible beer scene, excellent food, and surrounding beauty. Get your own cheap flight (or go on a road trip), find lodging in its walkable and charming downtown, and go. If you have more time, take a $8 Uber to the funky, untouristy West Asheville and check out some cool eateries and bars on West Haywood. Below are suggested activities to do and places to eat/drink. If you're at a loss for your next step, just chat with any of the friendly locals.
Amazing Pubcycle
Sure it's cheesy, but the 90 minute Amazing Pubcycle tour was worth the $24 to get bearings downtown. Here's how it works-about 10 people sit and cycle on bike seats around a U shaped contraption while the tour guide/DJ (get on Tyler's tour) drives the pubcycle (which has a motor to assist) and generally hypes up the pubcyclers as well as passing pedestrians. Drinking BYOB cans of beer or Solo cups of wine is encouraged, and stops at a brewery and a brewpub are good places to fill up. A shorter, cheaper 40 minute ride (no stops) is available, and tours happen all afternoon and evening long.
Breweries

If you love beer, Asheville is awesome. 40+ breweries are in the area, including a ridiculous amount downtown. For your first trip, I would suggest keeping it simple and just brewery hop on the South Slope a few blocks south of downtown; stopping by the ridiculous Sierra Nevada brewery campus a couple miles from the airport is also well worth it (bocce, mini-farm, firepits, amphitheater, huge restaurant/brewhouse). Every restaurant or bar will also have multiple local breweries on tap, often for less than $5/beer.
Visited:
Other Suggestions: Lexington Avenue Brewery, One World, Highland, Pisgah
Restaurants
Asheville has a tremendous food scene-great values to be had downtown as well as in West Asheville (Haywood Road area) and in the River Arts District.
Visited:
Chai Pani – amazing Indian street food. Rotis are on point.
Curate – renowned Spanish tapas spot from former Jose Andres protégé and El Bulli alum. Get reservations or better yet sidle up to bar at 6-6:30 and grab an early dinner.
Buxton Hall – Incredible bbq spot with pulled pork, smoked fried chicken, and catfish. Beware of slushies on tap. No reservations so get there early for a table. Adjacent to Catawba Brewing
Rhubarb – A little more pricey but tasty modern Southern. RIght in epicenter of downtown. Brunch is affordable with easy reservation availability
Bomba – cozy café right in epicenter of downtown. Huge, delicious arepas for lunch.
Buffalo Nickel – excellent elevated pub/American food in West Asheville. Easy reservations [closed April 2017]
Local Provisions – Great modern American spot right by Wicked Weed brewing (good option for relatively last minute reservation[closed indefinitely Nov 2017]
French Broad Chocolate Lounge – fantastic dessert, though with lines all day
Other Suggestions:
Downtown: Table, Rankin Vault Cocktail Lounge (burgers only), White Duck Taco, Salsas, Limones, Tupelo Honey Cafe
River Arts District: 12 Bones
West Asheville: The Admiral, Sunny Point Cafe
Bars
Asheville bars don't generally get rowdy and are on the whole chill, even late. Folks day-drinking at breweries might have something to do with it. Still, there are a number of worthwhile spots.  The locals seem to gravitate to somewhat more hipstery spots in West Asheville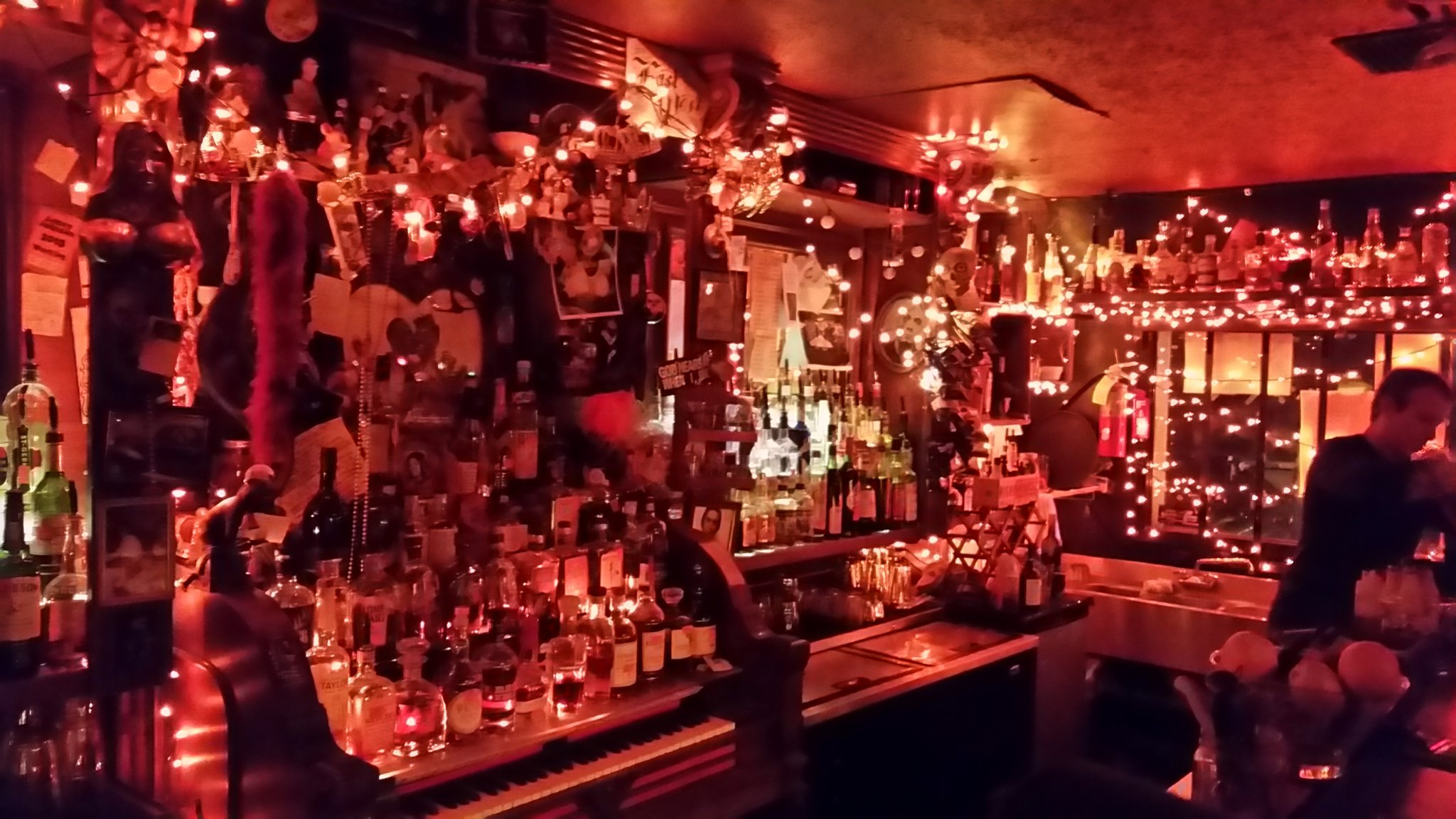 Visited:
Other Stuff to Do

Aside from eating and drinking, Asheville is known for the beautiful surrounding Blue Ridge Mountains. If you have a car, get on the Blue Ridge Parkway and go up to Craggy Gardens (quick hike up mountain for amazing vistas) or Mt. Mitchell, the highest point east of the Mississippi. There are plenty of outdoor activities to do, and there's some charming places to purchase art, clothing, and other cool stuff. The sprawling Biltmore mansion and grounds are a few miles away, though the price is steep ($60).
Shop – Just wander from artisan to clothing shop to boutique, but some suggestions we visited are below:
How to Get there from DC
Driving takes about 7.5 hours from DC. We flew direct on something called Allegiant; the $75 we paid for a roundtrip flight from BWI was about right considering carry-on bags were extra and on one occasion we were delayed 22 hours due to mechanical issues. Otherwise, a connecting flight through Charlotte or Atlanta on an airline you have heard of can run $250-400.
Where to Stay
The new (opened in March 2016) comfortable Hyatt Place Asheville/Downtown is only a 10 minute walk to the very center of downtown and features free parking. Look for periodic deals or use 12,000 Hyatt points a night (easy to transfer if you have a Chase Sapphire card, which you should).