The Boardwalk, 507 7th St. NW (at E St), M-F open at 4p, Sat-Sun 2pish, HH 4-7p M-F Sat-Sun 2-5p, Twitter, website (est. 2019)
Iron Horse Tap Room, the biker-themed Penn Quarter spot with games and a solid beer list, unceremoniously closed on Saturday October 26th, two months shy of a full decade in operation.The announcement that it would be replaced by The Boardwalk came first October 3rd from the Washingtonian right after PoPville reported the imminent closing (Eater also picked up the news; like most bar news in DC, if you only read the Washington Post, you still won't know this happened). The owners of Iron Horse appear to retain ownership in The Boardwalk, but they have now brought on the folks who run the super-bro Shaw bars Cortez and Takoda-to be managing partners. The spot opened officially last night, as detailed in this Washingtonian story. (posting the story and a pic of the menu brought strong reactions-see below)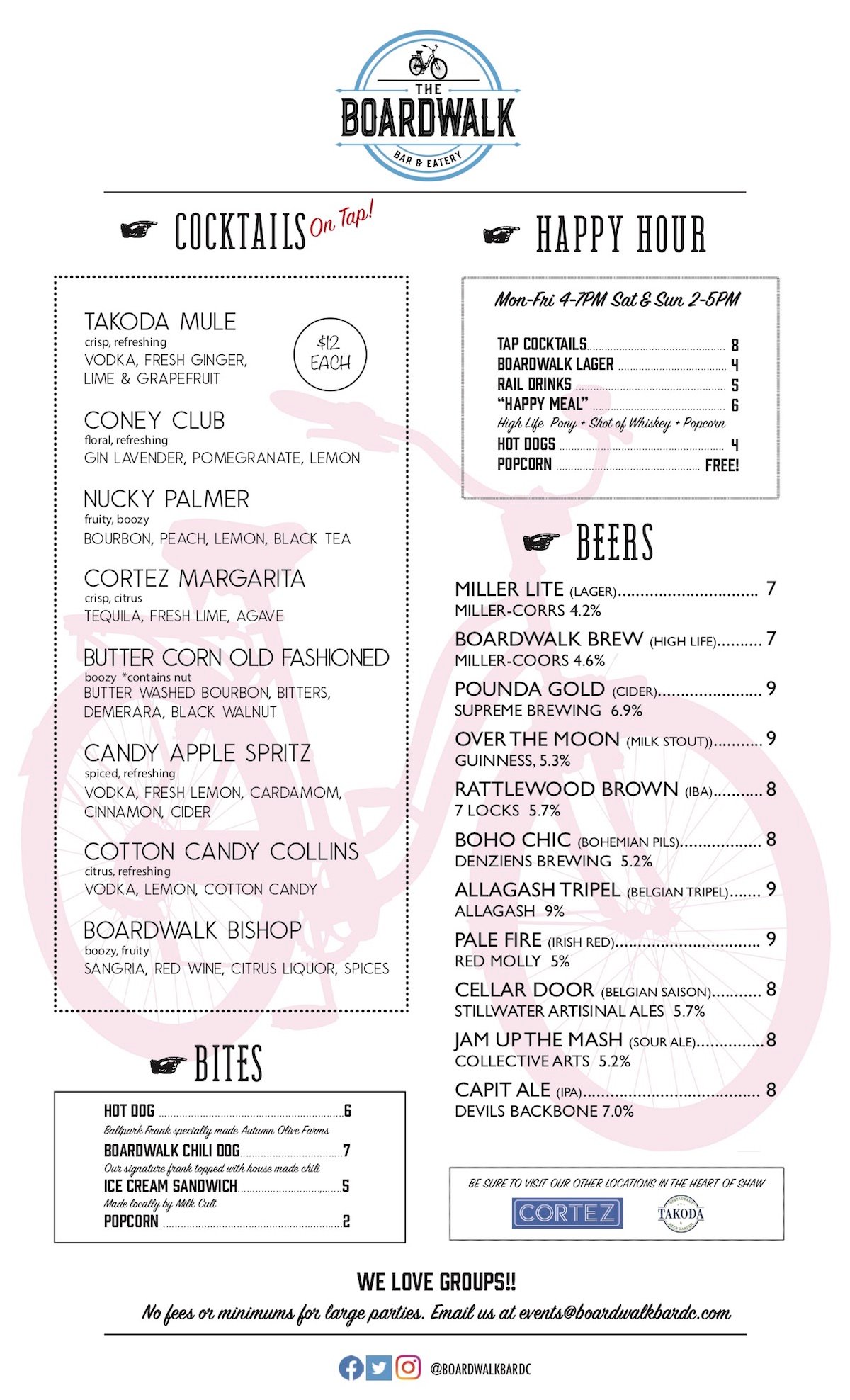 Barred in DC stopped by the new spot for happy hour last night. The ground floor is certainly transformed-the floor is painted white and everything is much brighter. Instead of motorcycles, beach cruiser bikes you might rent at a boardwalk are hung. The basement basically seems identical to Iron Horse, with a few new games and a paint refresh. The opening night menu features eight $12 cocktails on draft (including the Takoda Mule and Cortez Margarita), as well as eleven draft beers. Aside from the much ridiculed $7 Miller Lite and the even-worse priced Miller High Life, the other beers are $8-9 which are about $1 more for many of the same beers were priced two weeks before. Other than a 7 oz. pony bottle of High Life, no cans or bottles are yet offered. During happy hour, the draft cocktails are $4 off, the High Life is $3 off, and rails are $5; a "Happy Meal" with a 7 oz High Life + a shot of whiskey (Evan Williams per the bartender) is offered. Because why not, I got the "Butter Corn Old Fashioned" which was boozy as the menu claimed-made with butter washed bourbon, bitters, demara, and black walnut; garnished with a maraschino cherry. Not gonna lie, I liked it and probably is worth might be even worth the $12 it costs.
Food options are slim: a hot dog (a follower said it was great-$6 made by Autumn Olive Farms; $1 more for chili on it), $5 ice cream sandwich, and $2 freshly made popcorn (nothing special, but tasted good). Hot dogs are $4 and popcorn is free during happy hour. No corn dogs or cotton candy so far, though mentioned in initial releases.
Based on Twitter chatter, none of the bartenders from Iron Horse (which was apparently popular with industry late night crowd in the neighborhood) are with this new incarnation. Twitter reaction has not been kind. Here are a sampling of comments, bulleted for your edification (like those meme stealers on Instagram, I'm taking all the credit for these):
I was really excited to go to this boardwalk themed bar which surely wasn't going to attract a bunch of annoying people but then I saw High Life was $7 and I decided to shut my face in a car door repeatedly instead
So they closed a great bar to reopen as an awful bar. Awesome.
Before a Caps game there's nothing I want to do more than drink a candy apple spritz
I went for a drink tonight to see what they did to Iron Horse. The people that created this monstrosity definitely have this sign [that says 'live' 'laugh' 'love;']. The entire place reminds me of that episode of Bar Rescue when they turned Piratz in Silver Spring into a corporate bar.
Iron Horse was a great late night industry place. Boardwalk on the other hand will not be…looks like Jackpot will benefit from IH closing
It sounds like an the menu looks like a touristy cash grab.
"Have you tried their butter corn old fashioned?" is code for "I just moved here recently from out of state"
…we lost Iron Horse for this?
Trash.
Just walked by…no thank you…
This is awful.
F this place. Bring back Iron Horse Taproom.
I give that place a year maybe 2. Should've opened it in Clarendon.
Wellp. So much for this place. That's just disappointing as hell.
Is there an upcharge for "Boardwalk Lager" champagne service?
Already hate this place. Iron Horse had a great drought list, and happy hour applied to everything. Hate it when they throw the lousiest beer on their happy hour menu and call it a day. Losing both Iron Horse and Penn Commons was a major blow for HH in Chinatown.
$7 for a Miller Lite. The Boardwalk is the bourgeoisie.
First RFD is gone… Then Iron Horse…now THIS bullshit?
the worst part is there will still be tons of people there paying $7 for a damn miller lite.
I just got a lot less excited.
God damn it

Lol wtf seriously

#MillerHighLife

$7 huh well I know where I wont bring the kitchen cooks and bar staff… damn guys you need to stay more competitive with the other bars… what the hell is up with your beer prices

That draft list is just a bit ersatz compared to iron horse.

$7 for a high life?!

this place will be closed by next baseball season.
Have they even SEEN a beach before—no one is paying 7 dollars for a damn Miller Lite. Also, what's with no hard seltzer??
No boardwalk fries, no orange crush. Sick.
Somehow a cocktail being on tap makes me feel significantly worse about paying $12 for it.